Description
Sony PS Vita PCH-2000 ZA23 Blue Console Wi-Fi model Japan domestic version New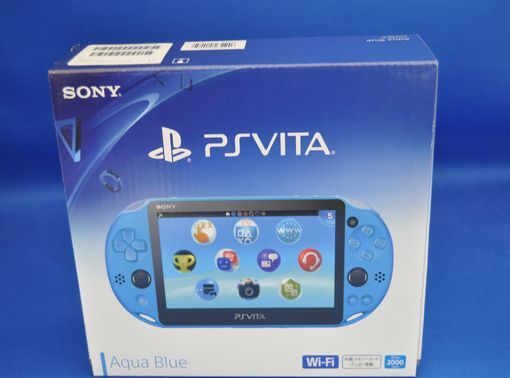 Sony Playstation PS Vita
PCH-2000 ZA23 Aqua Blue
Console Wi-Fi model Japan domestic version
New
This game
region is region Free, you can Play any
games US, EU and Asian edition.
Video region is NTSC. Not be supported PAL.
This plug type is A plug type. If plug of
your country is different,
you may need a transformer to convert plug.
This item is compatible with Multi Volt (
100-240V, 50/60hz) for worldwide.
Description
The Sony Playstation Vita PCH-2000 ZA23 is a new
version of the company's handheld console.
Features
5-inch(16:9) 960×544 LCD
display
20%thinner and 15% lighter
than than old model

Built-in 1GB memory

Approx.6 Hours battery life

Language:English,Dansk,
Español,Français,Russian,Português,Türkçe,Arabic,Korean,Simplified
Chinese,Traditional Chinese(22Languages)
Specification
Display:5- inch(16:9) 960×544 LCD display
Dimension:85.1×183.6×15mm
Weight:219g
Storage:1GB Onboard/Memory Card/Game Card
CPU:ARM Cortex-A9 core(4core)
GPU:IMG SGX543MP4+
Camera:Front camera,rear camera
Front rate:120fps@ 320×240 (QVGA), 60fps @
640×480 (VGA)
Resolution: Up to 640×480 (VGA)
Sound:Built-in stereo speakers,built-in
microphone
Sensor:6-axis sensing system (three-axis
gyroscope, three-axis acceleration),
3-axis electronic compass function
Location:Wi-Fi location service support
Wireless communication function:IEEE 802.11b / g
/ n-compliant (Wi-Fi: infrastructure mode / ad
hoc mode),
Bluetooth 2.1 + EDR compliant (A2DP,
AVRCP, HSP correspondence)
The main terminal:PlayStation Vita card slot,
memory card slot, micro USB port (Type B: USB
data communication /
body power input), headphone / microphone
jack (stereo mini-jack: voice input / output
[stereo output / mono input])
Battery Life:Approx.6 Hour
Power:Built-in lithium-ion battery (user can not
be replaced) ,external AC adapter Power-AC
100-240V,50-60Hz,Plug type:A
Accessoried:AC adapter,Power code,USB
code,Manual(Japanese)
Import
Duties/Customs fee
Import duties, taxes fees
are not included in the item price or
shipping cost. These charges are the
buyer's responsibility.
These charges are normally collected by
the delivering freight (shipping)
company or when you pick up the item –
do not confuse them with additional
shipping charges.
Please contact your country's customs
office, local Post Office or FedEx
for the information on additional costs
prior to purchase.
If you want your item to be shipped
within Japan domestically, consumption
tax (8%) fee will be added to the item
price.
*We have to declare
the actual price and details in the
invoice for our company's policy.
We are sorry that we could not declare
lower price in the invoice or mark the
package as a gift or used item.
Generally,
we accept return for exchange or refund within
14 days since the
items arrived to your door.
For a full refund, all returned items must
be unused, unopened
and undamaged in the same brand new
condition as it was delivered to you.
If the item does not under the `brand new`
condition, we will not be able to make a
full refund.
After checking the item and estimating its
condition, we will decide the percentage
of the refund (80%, 50%, etc).
All
packaging, manuals, warranty cards, box
and accessories must be sent back with the
item.
Please make sure to write "Return Item" on
the dispatch slip paper when sending back
the item to us.
The item must be sent back via EMS(USPS)
or any carrier that provides tracking
number..
The buyer is responsible for the items
till we receive them. 
Please contact us before shipping back the
package.
The responsibility of return shipping cost
depends on the case.
We deal with return and refund case by
case.
Simply, we divide the cases by 2
categories.
Manufacturer Defect
Non-Manufacturer
Defect
Return shipping cost
responsibility
on seller
on buyer
Refund amount
full refund
or
exchange
decided by seller
after assessing the item condition
How warranty works?

If you have any warranty problems, we
will assist you.

Generally, the warranty is a one year
standard warranty and it is valid in
Japan only.

Item repairs are
carried out by the manufacturers here
in Japan.
If your item has a
problem, you have to ship your item
together with the warranty card back
to us.
The item must be sent
back via EMS(USPS) or any carrier that
provides tracking number.
The manufacturer will
decide if the problem is covered by
the warranty.
If the problem is not
covered by the warranty, extra
repairing fee will be charged.
The shipping cost and
extra repair fees are the buyer's
responsibility.
Warranty cases
usually take around 14 business days
to be processed in Japan. If it is
going to take longer we will contact
you.

Warranty scope

Only items that
have manufacture defects may be
covered by the warranty.
Items that have been
damaged from actions such as drops,
self repair, non maintenance damage,
water damage, damage caused by misuse
are out of free repair scope.
1)
Can you lower the value in the invoice or
mark it as a gift?
We cannot undervalue the products or mark
them as gift/used item, as it is
prohibited by the law. Please understand.
2) What "Japan model"
means?
It means Japan domestic market model.
3) Can you send me an
English manual?
English manual can be found and downloaded
online.
If you can not find English manual, please
let us know.
We will assist you.
4) Can you check the
item/change settings before shipping?
We cannot do so in order to keep brand new
condition.
If you have problems
with changing the settings, please let
us know.
We will assist you.
5) Is the item genuine
and brand new?
All our products are genuine and brand
new in original boxes. We do not sell
fake/used items.
6) Is the box factory
sealed?
There are items that come sealed by
manufacturers. There are also items come
unsealed. No matter if the product comes
sealed or unsealed, it is brand new and
unopened.
7) What about import
taxes in my country?
Unfortunately we cannot check import tax
information of your country from Japan.
Please check with your local customs
office or contact the post office for
more information.