Description
Organic Compound Capsicum Cream – Capsaicin Cream 25g – Capsicum frutescens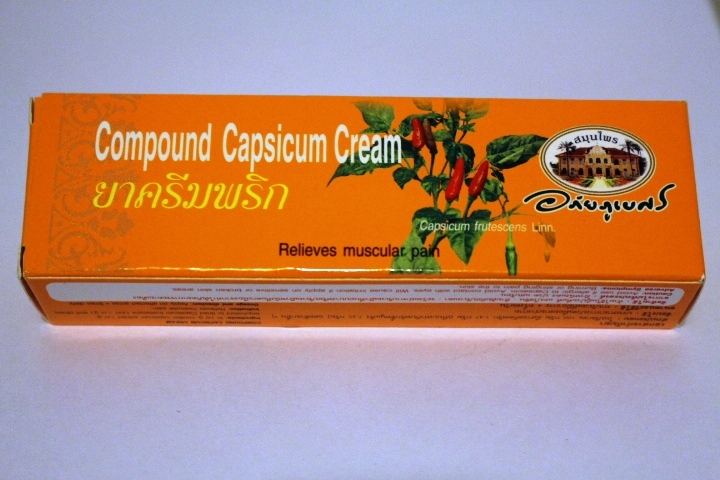 Abhaibhubejhr Brand – is the most highly respected brand in Thailand for high quality organic herbal products
This listing is for 1 25g tube of Compound Capsicum Cream (Capsaicin Cream)
No Additives. No Fillers. No Preservatives. No Colors.
Contains 1.47% by weight Capsaicin – from organic Capsicum frutescens
For external use only – must not be eaten
We are suppliers and exporters of tea, organic natural herbs and herbal products from Thailand
This product is licensed by the Thai FDA – License Number – G349/52
This product is certified organic by Organic Agriculture Cerification Thailand – an IFOAM accredited organization
It is manufactured in a facility conforming to GMP and HACCP and using CAF quality management
Enjoy all the Health Benefits from the range of Naturally Thai Organic Thai Herbs and Teas in our Ebay Shop – !
Please note: our price includes free shipping – there is nothing more to pay
Benefits of Capsaicin Cream
Capsaicin is the compound found in red hot chilli peppers that makes them taste or feel "hot". It is widely used as a topical "Heat Cream" to provide pain relief for various medical conditions, such as muscular pain, arthritis, rheumatism, neuralgia, shingles, etc. It is also effective in reducing the itching associated with psoriasis and similar skin conditions.
Capsaicin cream works by reducing the amount of pain transmitting chemicals released from the nerve cells in the affected area where you are experiencing pain. When you apply it to the skin, at first it will cause a hot or sometimes a stinging sensation. This is normal and may feel a little uncomfortable at first, but after a few applications the sensation will get less.
The Capsaicin is also thought to be transported along the nerves to the spinal chord and reduces the amount of pain transmitting chemicals sent to the brain – thus giving more effective pain relief – but it takes some time for the Capsaicin to move to the spinal chord and do this – maybe up to 6 weeks – so please allow enough time before giving up.
How to Use Capsaicin Cream
It is very easy to use. Simply apply the cream to the painful area with gentle rubbing. At the beginning, you should apply it 4 times per day. This will allow your body to get used to the burning or stinging sensation more quickly. If you apply it less often, it will take longer for your body to get used to it. The cream should not be applied to inflamed or broken skin. Avoid contact with the eyes.
Please wash your hands after applying the cream as you may find it painful if you rub your eyes, nose or mouth without washing your hands.
*************************************************************************************************
Important Information
Guarantee
We guarantee that everything we sell is as described. If there is any error or misrepresentation by us, we will refund 100% of your payment
You can buy with confidence