Description
*IN-HAND* SNES Classic Edition EU Mini Nintendo Console – U.S. Seller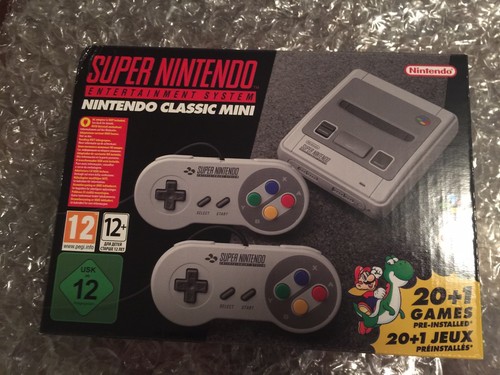 Item is IN HAND and ships ASAP! Priority Mail, tracked and insured.
This is the European version of the SNES Classic Mini.
One console, 2 controllers, and 21 pre loaded games included.
List of 21 games included:
• Contra 3: The Alien Wars
• Donkey Kong Country
• EarthBound
• Final Fantasy 3
• F-Zero
• Kirby Super Star
• Kirby's Dream Course
• The Legend of Zelda: A Link to the Past
• Mega Man X
• Secret of Mana
• Star Fox
• Star Fox 2
• Street Fighter 2 Turbo: Hyper Fighting
• Super Castlevania 4
• Super Ghouls 'n Ghosts
• Super Mario Kart
• Super Mario RPG: Legend of the Seven Stars
• Super Mario World
• Super Metroid
• Super Punch-Out!
• Yoshi's Island
One business day handling time. Thanks for looking!
Ships in a priority mail flat rate box. Insured with tracking!