Description
Golden Alaska Deep Sea Fish Oil Omega-3-6-9 1000mg 100 Softgels, DHA/EPA FRESH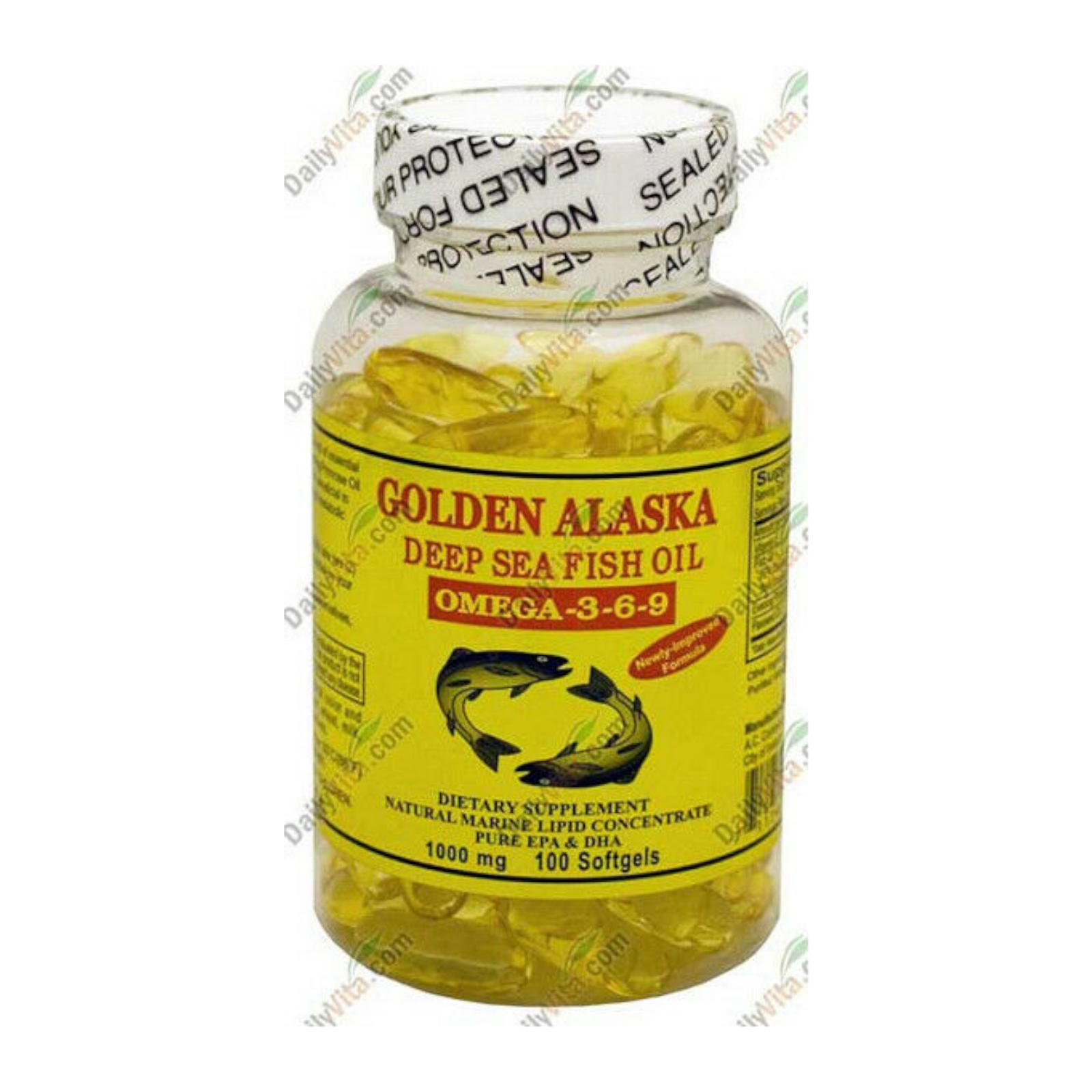 Total Count:
100 Each
MSRP: $
11.99 Each
Condition: New
Manufactured: USA
SKU:
1111101
OMEGA-3 fatty acids
Cardiovascular support
Description
Golden Alaska Deep Sea Fish Oil is known for being rich in unsaturated fatty acids and provides rich OMEGA-3 fatty acids. Alaska Deep Sea Fish Oil are made from natural marine lipid concentrate and may help reduce or inhibit risk factors involved in cardiovascular disease, as well as inflammatory and immune disorders. Long term use of Golden Alaska Deep Sea Fish Oil help prevent menopausal symptoms, promote better circulation, lower cholesterol, prevent blood clots, reduce heart related risk, and the pain of arthritis. Omega-3 and polyunsaturated fatty acids found in fish and golden alaska deep sea fish oil help to protect against heart and blood vessel disease.
Natural, essential fatty acids are essential to normal human cell and tissue growth and maintenance. If not found regularly in the diet, the diet must be supplemented. These fatty acids are especially abundant in brain cells, nerve relay stations (synapses), visual receptors (retinas), adrenal glands, and sex glands. The most biologically active tissues in the body.
Each capsule is certified to contain no artificial preservatives, coloring, or flavors. Also sugar, starch, yeast and wax free.
Supplement Facts
Serving Size: 2 Softgels
| | Amount Per Serving | % Daily Value |
| --- | --- | --- |
| Vitamin E | 10 IU | 33.3% |
| Fish Oil | 700 mg | * |
| EPA (Eicosapentaenoic Acid) | 126 mg | * |
| DHA (Docosapentaenoic Acid) | 84 mg | * |
| Evening Primrose Oil | 200 mg | * |
| Flaxseed Oil | 1100 mg | * |
* Daily Value not established.
Recommended Use:
Take one fish oil capsules with meals per time, twice per day as a dietary supplement, or as directed by your physician.
Made In U.S.A
*This statement has not been evaluated by the Food and Drug Administration. This product is not intended to diagnose, treat, cure or prevent any disease. Keep out of the reach of children. Store in a cool dry place, tightly closed.