Description
FORSKOLIN EXTRACT 500MG-800MG MAX COLEUS FORSKOHLII Weight Loss 20% STANDARDIZED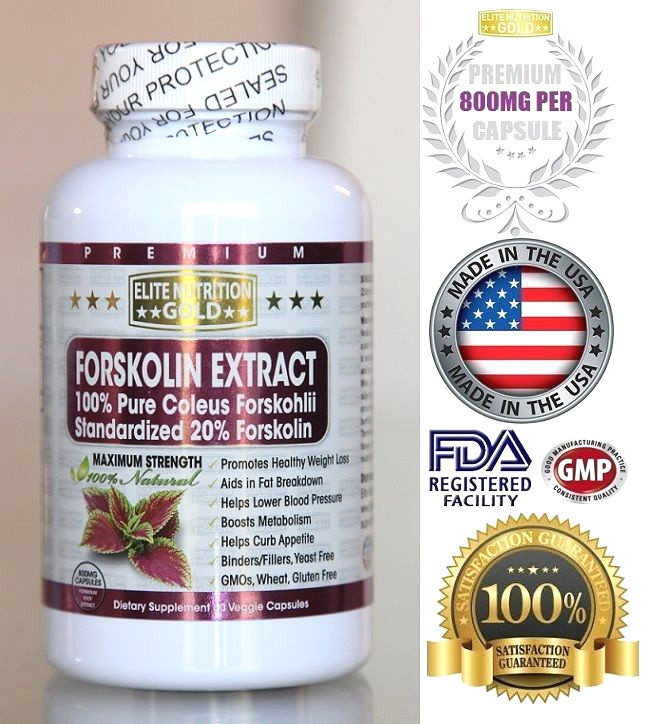 Made in USA
Freshest Product, Brand New Sealed.
Fast Free Same Day Shipping (Ships Everyday, even weekends)
Instant Positive Feedback after payment is received.
With our 100% feedback Satisfactions. Please Purchase with confident
Feedback is Private for all winning bidder.
Authorized Elite Nutrition Gold Dealer: ID#VT0603
(PLEASE VISIT MY STORE FOR ADDITIONAL SAVINGS)
Premium Forskolin Extract
100% Pure Coleus ForskohliiStandardized 20% Forskolin
Maximum Strength
800mg of Pure Forskolin Per Capsule
(No Leading Brand Compares or Comes Close)
Take 1 Capsule Daily (Maximum of 2 capsules)
Made in USA
What is Forskolin Extract?
Forskolin
is not a brand or supplements but it's a plant. Also known as Coleus
Forskohlii, this plant is scientifically known as Plectranthus Barbatus,
and is a member of the mint and lavender family.
This
plant has long been used in the regions where it grows, such as India
and Nepal, and it's a popular herbal medicine for a wide range of health
conditions.

Scientists who
were studying the roots of the plant discovered something amazing. They
discovered that Forskolin increases the enzyme called cAMP or cyclic
adenosine monophosphate, which regulates several biochemical functions
in the body.
One
of these functions is the production of thyroid hormones, which is
linked to how slow or fast your metabolism is. When studies were done on
overweight subjects, scientists were able to discover that taking
Forskolin Extract can help with fat burning and the production of lean
body mass.
So
not only does Forskolin help you burn fat tissues, it also promotes the
production of lean muscle for that slimmer and tighter body.
Forskolin does something to the body on a cellular level and that's scientifically VERY exciting.
Forskolin
has a direct effect on a certain enzyme (adenylate cyclase), which is
an enzyme that "speaks" directly to your cells. What this enzyme actually does is raise cAMP levels in cells, and cAMP is a cell regulator. It stands for "Cyclic AMP". In essence, Forskolin can control the stuff that controls your cells.
Raising cAMP does all sorts of good things to your body;
reduces cells activation of platelets so you're less likely to have blood clots

reduces cells release of the chemical histamine, which reduces severity of allergic reactions

improved thyroid function

increased lipolysis, which is scientific term for burning fat
Elite Nutrition Gold
attentively chooses the elements of these nutritional supplements
according to scientific evidence. We locate the special vitamin formula
and chelate along with all the optimum dose range for human well-being
and vigor so only the best quality nutritional supplement can be given
for clients and customers.