Description
4x Baschi Qucik Slimming Diet Herbal Capsulles Appettite Suppresant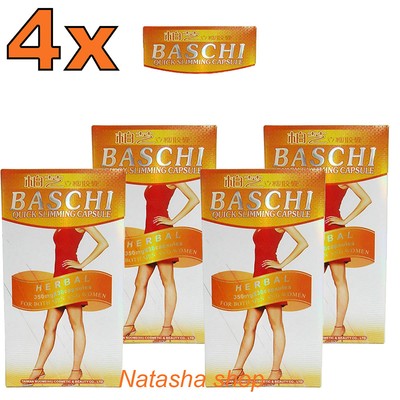 Baschi Quick Slimming Capsules are
handled by the advanced technology with pure, natural herbs. Function test
showed a week may be thin or more no backlash and negative side-effects
Suited for: Those who want to
maintain weight and prevent weight rebounding.
Unsuitable for :
1. People with coronary heart
disease, high blood pressure or cerebrovascular disease.
2. People with psychosis or addict
of drugs, medicine or alcohol.
3. People with hyperthyroidism,
insufficiency of liver or kidney.
4. People with prostatic hyperplasia
or glaucoma.
5. Women in pregnancy or lactation.
Condition : 100% Brand new,
seal, never used , never opened
Quantity : 4 Boxes
Size : 4x 30 capsules
How to use : Once 1 day ( 1
capsule per time ) taking it half hour before the breakfast.
Ingredients : Aloe, cassia
seed, lotus leaf, Garcinia cambogia, starch
1. Aloe (extract, put away the
crocodiles) to support digestive efficiency even more. Allows for the relaxation of the condition of deep sleep.
As a result of the process. Conditioning system in the body into a balanced
condition. Glycemic control has been very well. Help heal wounds in the stomach and nourishes the skin
to moisturize the skin
2. Cassia Seed & Lotus Leaf
(extract from the seeds, cinnamon, and lotus root) can reduce the accumulation of fat
in the blood. To keep the weight down. To control the appetite. Belly to paddle.Enhance
the elimination of waste from the body. Reduce the absorption of fat that do not
have the body and eliminate toxins and residues.
3.Garcinia Combogia (Orange
Extract), inhibits the accumulation of excess fat in the body.
And decreased appetite as well.