Description
480 Sgels 4X Puritan's Lutigold Lutein 20mg Zeaxanthin Eye ARMD Cataract + Bonus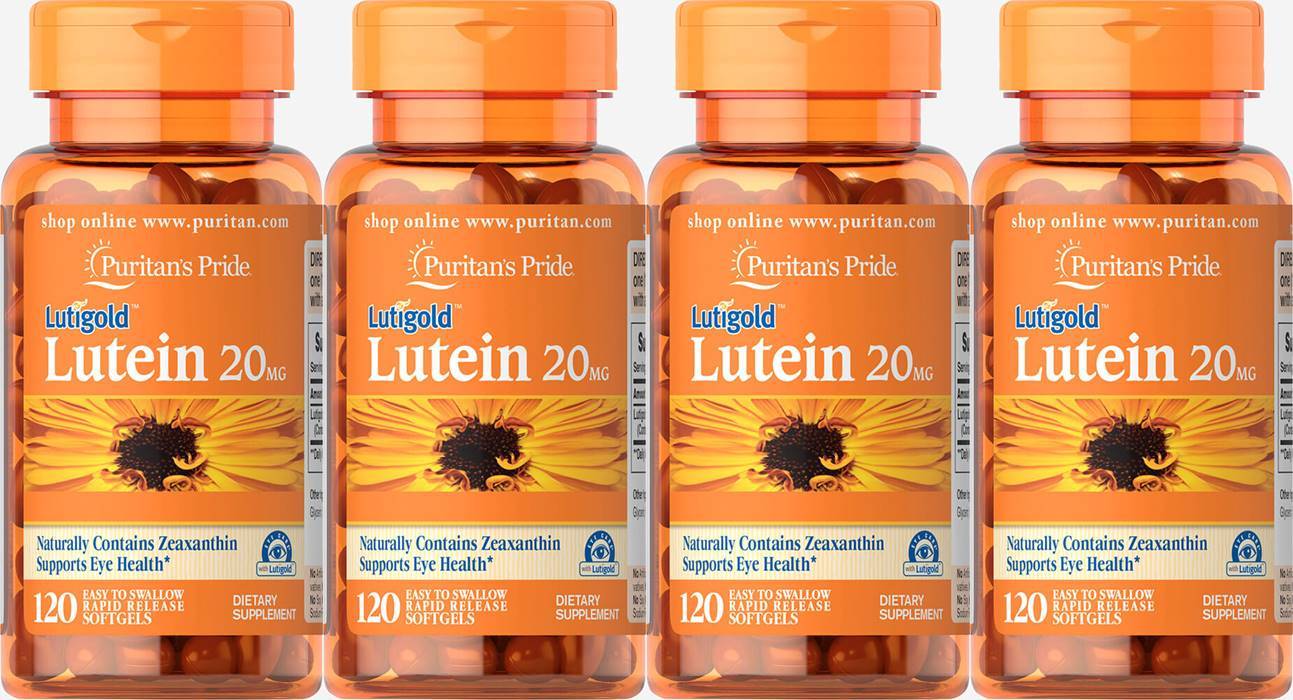 You
are purchasing…
FOUR (4)


Sealed Bottles

Puritan's Pride Lutigold Lutein 20 mg +
Zeaxanthin / 4 x 120 Softgels


See What People Are Saying…
"I
have taken this product for over two years and can feel my eyes improvement" By Mandy51
"Great
product for eye health care at an excellent price" By hallmkwh
"this
is a excellent product. My eye doctor recommended that I take it." By Neve
"works
well and the doctor claims he see improvement" By Chicklet
"I
am happy with using Lutein . I feel some improvement since I started taking it."
By Manus
"I
am 66. I live in SW Florida and walk the beach for enjoyment and exercise. I
believe Lutigold is the best eye nutrition supplement on the market; especially
with 20mg dosage. The current sale is irresistible! Every dollar counts on
fixed limited income!" By Teddy66
"This
an excellent product and a great value. I have been taking Lutein for a couple
of years and now and I wouldn't do without. Thanks Puritan." By rainnation
"I
don't have time to eat all of the vegetables that contain this concentrated
combination of nutrients, so this product is perfect for me. I really
appreciate this lutein product." By LindaA
"I've
been taking this for a few years now, since my eye doctor recommended that I
take this supplement." By lmp1971
Lutein
and Zeaxanthin help to reduce the risk of age-related macular degeneration
(ARMD)
Lutein and zeaxanthin are found in the macula
of the eye and provide yellow color. The macula is the part of the eye
responsible for central sharp vision, which is necessary for driving and
reading. Age-related macular degeneration, commonly called ARMD, is the leading
cause of vision loss in America in people age 65 and higher. ARMD is caused by
the deterioration of the macula.
Lutein and zeaxanthin are naturally
occurring carotenoid compounds found in many plants and vegetables. In a study
published in a 2007 issue of "Archives of Opthamology," the research team
commented that among the specific carotenoids, lutein and zeaxanthin were
strongly associated with a reduced risk for age-related macular degeneration.
Lutein
and Zeaxanthin help to reduce the risk of cataracts
In a study published in a 2008 issue of
"Archives of Ophthalmology," researchers found that a high dietary intake of
lutein, zeaxanthin and vitamin E from food and supplements was associated with
a significantly decreased risk of cataracts. A cataract occurs when the
normally clear lens of the eye gets cloudy. Symptoms of cataracts include
blurred, dim or clouded vision, sensitivity to light, double vision and poor
night vision.
Lutein and zeaxanthin have antioxidant
properties and thus help protect the body from damage caused by harmful free
radicals in various parts of the body. Free radicals can play a role in a
variety of chronic diseases.
Lutigold™ Lutein with Zeaxanthing
provides essential supplements of carotenoids and helps to keep the eye health by
increasing the level of the macular pigment (usually degenerates with age) in
the eye.