Description
3 X GENONE™ OXY LEAN / SHREDZ ELITE V2, W/ DMHA / FAT BURNER – SAVE!!
Now with DMHA!!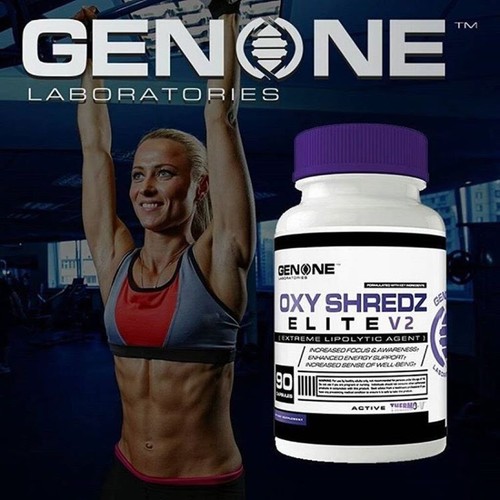 GENONE™ OXY LEAN ELITE V2 is a very potent weight loss supplement and should be used by advanced users!!
BENEFITS:
RAPID and Dramatic Fat Loss*
Increased Focus & Awareness*
Helps Suppress Appetite*
Enhanced Energy and Support*
Increased Sense of Well Being*
Helps Boost Metabolism*
Promotes Thermogenesis*
(DMHA) The Stimulant of the Year!!
Makes you feel amazing All Day long*
GENONE™ OXY LEAN ELITE V2 is reformulated now with DMHA. It is here to help you break past plateaus and assist with destroying fat cells that have plagued you for so long. This Extreme Lipolyic Agent is filled with 90 servings (30 to 45 day supply) that are fast absorbing capsules and help promote long lasting focus and awareness, increased sense of wellbeing, and energy levels that will assist with your metabolic rate to help burn fat and shred your core like no other.
Tackle your weight loss goals today with GENONE™ OXY LEAN ELITE V2. Don't just burn the Fat GENONE™ OXY LEAN ELITE V2 it from GENONE™ Laboratories. GENONE™ OXY LEAN ELITE V2 NEW FORMULA is specifically designed to change the game. Now available with Thermo V®, Forskolin, Rauwolscine, (DMHA), 2-Aminoisoheptane, Achyrantes Aaspera Root and other potent thermos ingeredients. Thermo V® is a combination of the three synergistic ingredients Stearoyl Vanillylamide, Capsaicin, and Zingerrone, which are naturally-occurring analogs found in peppers*.
Forskolin aids the production of cyclic adenosine monophosphate (cAMP), a key signaling agent in several biochemical processes. Researchers have found that Forskolin promotes the breakdown of stored fats and cAMP may help regulate the metabolism of glycogen to release fatty acids from adipose tissue, resulting in increased THERMOGENESIS*.
Rauwolscine prevents the formation of new fat tissues. Rauwolscine acts on the alpha-2 receptors, increasing fat loss, especially in the problem areas losingweight will be easier if your body can't make excess adipose tissues*.
DMHA doesn't result in a crash. In fact, the stimulant response simply tapers off after a period of time without leaving you feeling tired or spent. Depending on your goals, DMHA can help you train harder with more motivation, but also help you stick to your diet and not cave in to your cravings*.
Achyranthes Aspera works in speeding up the weight loss process is the fact that it is known to help you control food cravings, helping you feel full for longer. So no more binge eating*.
GENONE™ OXY LEAN ELITE V2 is formulated for athletes, competitors, and anyone looking for a beach body. GENONE™ OXY LEAN ELITE V2 comes with 90 powerful servings a (30 to 45 day supply) to help you reach your goals faster. It's time to dominate your weight loss goals with GENONE™ OXY LEAN ELITE V2, This New formula is ONLY AVAILABLE HERE!
GENONE™ OXY LEAN ELITE V2 (Extreme Lipolyic Agent) Pharmacist formulated to help promote the following effects when taken with your workout*.
Whether you are a novice or an expert you will surely feel the difference in each workout!*
This product works miracles for Fat Burning, and Shredding your core*
POWERED BY THE SCIENCE OF THERMOGENESIS
Imagine having the stamina to perform better during your workouts while experiencing the energy and elevated mood that everyone wants.
THE NEW REFORMULATED GENONE™ OXY LEAN ELITE V2 makes you feel amazing All Day long* is a clinically proven thermogenic formula that helps to enhance metabolism, burn calories and boost energy levels.
Remember weight loss varies from person to person. For faster weight loss make exercise and proper nutrition an important part of your daily routine.
GENONE™ OXY LEAN ELITE V2 is no magic pill but it is one of the most advanced weight loss supplement in the market.
Suggest Use: As a dietary supplement, take one (1) capsule with a meal twice per day (breakfast and lunch). Due to the extreme potency of this product one should assess tolerance with 1 capsule per day for 3-4 days before progressing to 1 capsule 3 times per day. DO NOT exceed 3 capsules daily.
For first time user of GENONE™ OXY LEAN ELITE V2 it is recommend that you take only 1 capsule in the morning 25-40 minutes after your first largest meal of the day to assess tolerance. It is also recommend to drink lots of water while using this product and try to avoid excess caffeine.
Why 30-45 day supply? Some of our clients of GENONE™ OXY LEAN ELITE V2 say they only take it 2 capsules per day because it provides the energy and boost that makes you feel amazing All Day long.
WARNING: You should consult with your doctor before starting any diet or supplement program. Not suitable for pregnant or breast feeding women, children under 18 years old.
*DISCLIMER: These statements have not been evaluated by the Food and Drug Administration. This product is not intended to diagnose, treat, cure, or prevent any disease.